Gancio embossed sneakers Blue Salvatore Ferragamo u5PEiqNfX
SKU427105469422639954828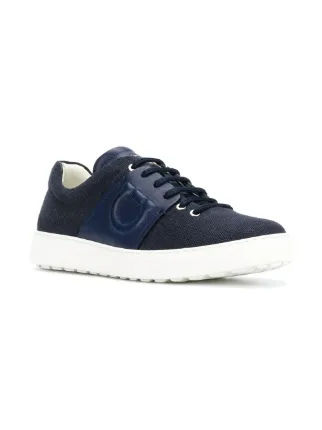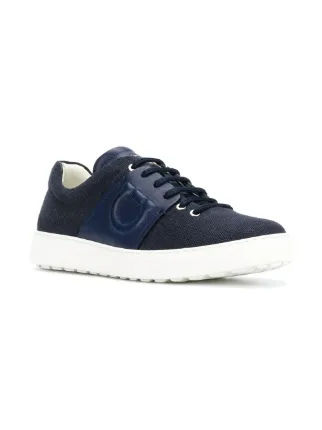 When Diana died, a crack appeared in a vial of grief, and released a salt ocean. A nation took to the boats. Vast crowds gathered to pool their dismay and sense of shock. As Diana was a collective creation, she was also a collective possession. The mass-mourning offended the taste police. It was gaudy, it was kitsch – the rotting flowers in their shrouds, the padded hearts of crimson plastic, the teddy bears and dolls and broken-backed verses. But all these testified to the struggle for self-expression of individuals who were spiritually and imaginatively deprived,who released their own suppressed sorrow in grieving for a woman they did not know. The term "mass hysteria" was a facile denigration of a phenomenon that eluded the commentators and their framework of analysis. They did not see the active work the crowds were doing. Mourning is work. It is not simply being sad. It is naming your pain. It is witnessing the sorrow of others, drawing out the shape of loss. It is natural and necessary and there is no healing without it.
It is irrelevant to object that Diana alive bore no resemblance to Diana dead. The crowds were not deluded about what they had lost. They were not mourning something perfect, but something that was unfinished. There was speculation that Diana might have been pregnant when she died. Was something of startling interest evolving beneath her skin – another way of living? The question was left hanging. Her death released subterranean doubts and fear. Even those who scorn conspiracy theories asked, what exactly is an accident? Why, on the last night of her life, did Diana go below ground to reach her destination? She need not have gone that way. But she didn't choose – she was driven. Her gods wanted her: she had been out too late.
From her first emergence in public, sun shining through her skirt, Diana was exploited, for money, for thrills, for laughs. She was not a saint, or a rebel who needs our posthumous assistance – she was a young woman of scant personal resources who believed she was basking with dolphins when she was foundering among sharks. But as a phenomenon, she was bigger than all of us: self-renewing as the seasons, always desired and never possessed. She was the White Goddess evoked by Robert Graves, the slender being with the hook nose and startling blue eyes; the being he describes as a shape-shifter, a virgin but also a vixen, a hag, mermaid, weasel. She was Thomas Wyatt's white deer, fleeing into the forest darkness. She was the creature "painted and damned and young and fair", whom the poet Stevie Smith described:
I wonder why I fear so much What surely has no modern touch?
In the TV broadcast last month, Prince William said, "We won't be doing this again. We won't speak openly or publicly about her again …" When her broken body was laid to rest on a private island, it was a conscious and perhaps superfluous attempt to embed her in national myth. No commemorative scheme has proved equal or, you might think, necessary. She is like John Keats, but more photogenic: "Here lies one whose name was writ in water." If Diana is present now, it is in what flows and is mutable, what waxes and wanes, what cannot be fixed, measured, confined, is not time-bound and so renders anniversaries obsolete: and therefore, possibly, not dead at all, but slid into the Alma tunnel to re-emerge in the autumn of 1997, collar turned up, long feet like blades carving through the rain.
Accessibility links
Menu
22 January 2018
Share this with
Facebook
Messenger
Twitter
Pinterest
WhatsApp
LinkedIn
Copy this link
These are external links and will open in a new window
Media playback is unsupported on your device
Princess Eugenie says she and her fiance couldn't be happier
Princess Eugenie has described the proposal from her long-term boyfriend Jack Brooksbank as a "perfect moment".
The Queen's granddaughter said it was a "complete surprise" when Mr Brooksbank got down on one knee in front of a volcano as the sun was setting in Nicaragua earlier this month.
The princess told BBC's The One Show that she cried and was "over the moon".
The wedding will take place at St George's Chapel, Windsor Castle, in the autumn.
It will be the second royal wedding at the chapel this year - Prince Harry and Meghan Markle are due to marry there in May.
Princess Eugenie said the couple were looking over a lake while the sun was setting before the proposal.
She said: "The lake was so beautiful. The light was just a special light I had never seen. I actually said this is an incredible moment, and then he popped the question, which was really surprising even though we have been together seven years.
"I was over the moon.
"[It was a] complete surprise. But it was the perfect moment, we couldn't be happier."
Mr Brooksbank said: "It was amazing."
The princess met the former manager of Mayfair club Mahiki on a skiing trip.
"We met when I was 20 and Jack was 24 and fell in love," she said. "We have the same passions and drive for life."
Mr Brooksbank said it was "love at first sight".
"I love Eugenie so much and we are just so happy and over the moon for what is to come," he said.
The princess added: "Granny actually knew right at the beginning [of the engagement]. She was very happy as was my grandfather."
Engagement pictures of the couple, taken in the Picture Gallery at Buckingham Palace, were released following the announcement.
In the photographs, Princess Eugenie is wearing a dress by Erdem, shoes by Jimmy Choo and a ring containing a padparadscha sapphire surrounded by diamonds.
Mr Brooksbank said: "I found a ring in a jewellers and then proposed to Eugenie without it and came back and we designed the diamonds around this padparadscha sapphire.
"And what's amazing about it is that it changes colour from every different angle that you look at it, which is what I think of Eugenie.
Contact us
Phone: 802-254-2394
Box Office: 802-258-9331
Fax: 802-254-4307
Visit us
Marlboro, VT Philadelphia, PA
support us
Special thanks to Pete Checchia and Allen Cohen for use of their photographs and to Mark Shogren for use of his video. Additional photos by Paul Conklin, George Dimock, Dorothea von Haeften, Edward Hamilton, George Harris Clemens Kalischer, Woodrow Leung, Steve Riskind, J. M. Snyder, and Arnold Steinhardt.